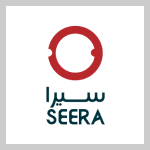 Seera creates community and belonging across continents
Seera is the largest group of travel companies in the Middle East and North Africa region. Comprised of a broad portfolio of brands, including a travel booking site, a car rental company, and destination management (to name a few), Seera strives to open up travel opportunities for everyone. Seera sees travel as a way to share our past and welcome new cultures to help build a greater future for generations to come.
Goals
Seera's mission to connect people and welcome new cultures isn't just limited to their customers; they aim to connect and create a sense of community for every employee. Their goal was challenging from the get-go as they have five offices throughout the Middle East, Africa, and Europe. Still, they found the right tool for the job—the Jostle platform.
"Our team is spread over six different countries, and our employees come from over 50 nationalities. Jostle helps us connect, celebrate our unique stories, and bring our own culture and flavor to the mix."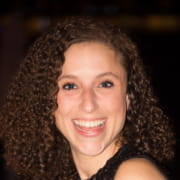 Nathalie Viranyi
Head of Communications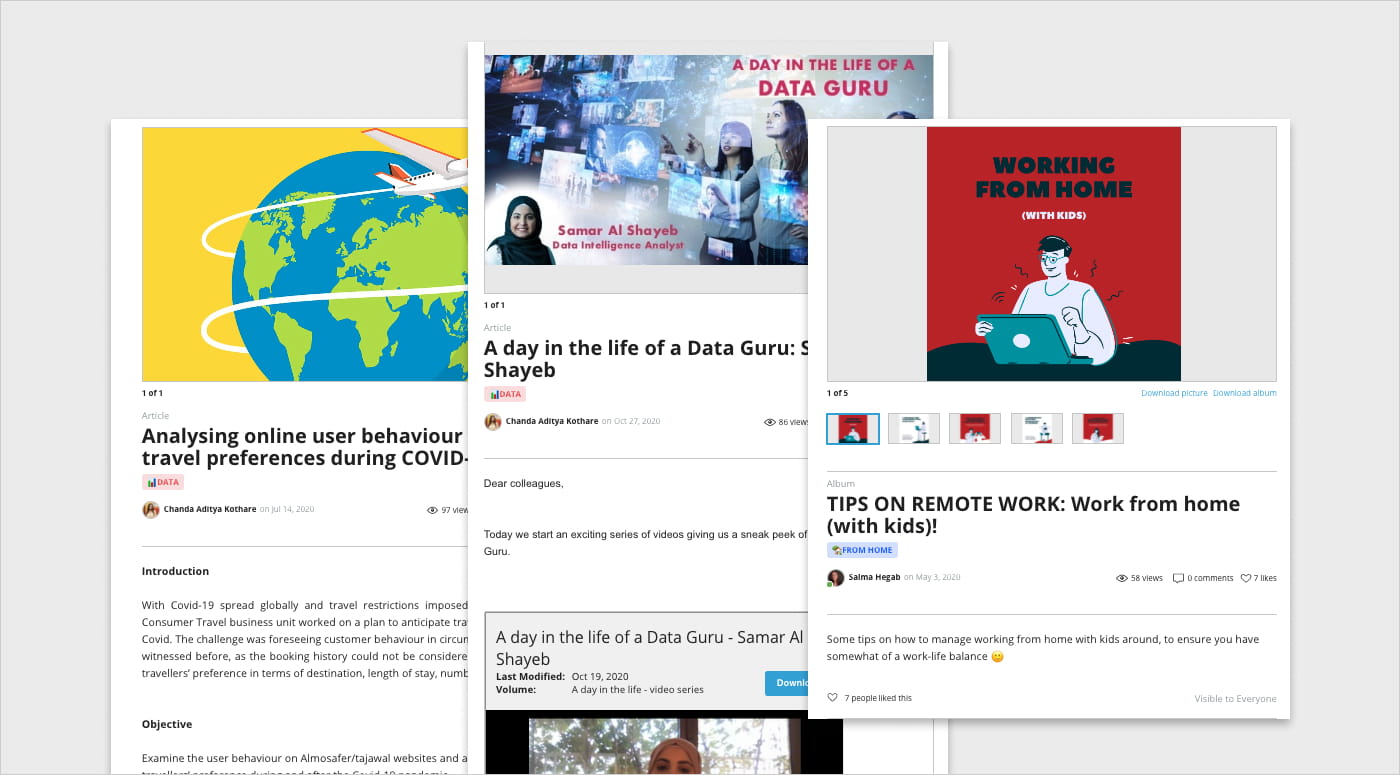 News stories
Connecting via Jostle
To build community throughout the organization, the team at Seera took on a variety of campaigns these include:
A "Humans of Seera" series was inspired by the well-known Humans of New York and published in News. Their team credited it as the most successful initiative—generating a ton of interaction and positive feedback. In 2020 alone, they published stories on 21 employees from the UAE, Saudi Arabia, Egypt, and Spain, highlighting the diversity of Seera's employees. The stories captured a complete snapshot of the employee, from details on their role to their favorite books and their after-work hobbies.
A collection of articles celebrating the top learners of the month, promoting learning and development throughout the organization. The campaign was designed to raise awareness of the training resources available to support employee development. The article had top learners share feedback on the courses they enjoyed. The series helped motivate employees to take classes of interest and accelerated their mission of continuous learning across the company.
A series of video interviews with managers and those on the leadership team offering tips on working from home were published in News. With a focus on mental health, working from home with kids, and sustaining productivity, managers across the organization were reaching out in a personable way to help each other during a global pandemic.
Relying on Discussions for work and project-focused messaging. This, along with using News for all company announcements, ultimately helped Seera meet its goal of reducing company emails. And with documents clearly filed in Library, the ability to find anyone in the organization quickly through Profiles, and the celebration and recognition provided through Shout-Outs, the Jostle platform proved to be more than a place to connect. It's a vital tool to get work done.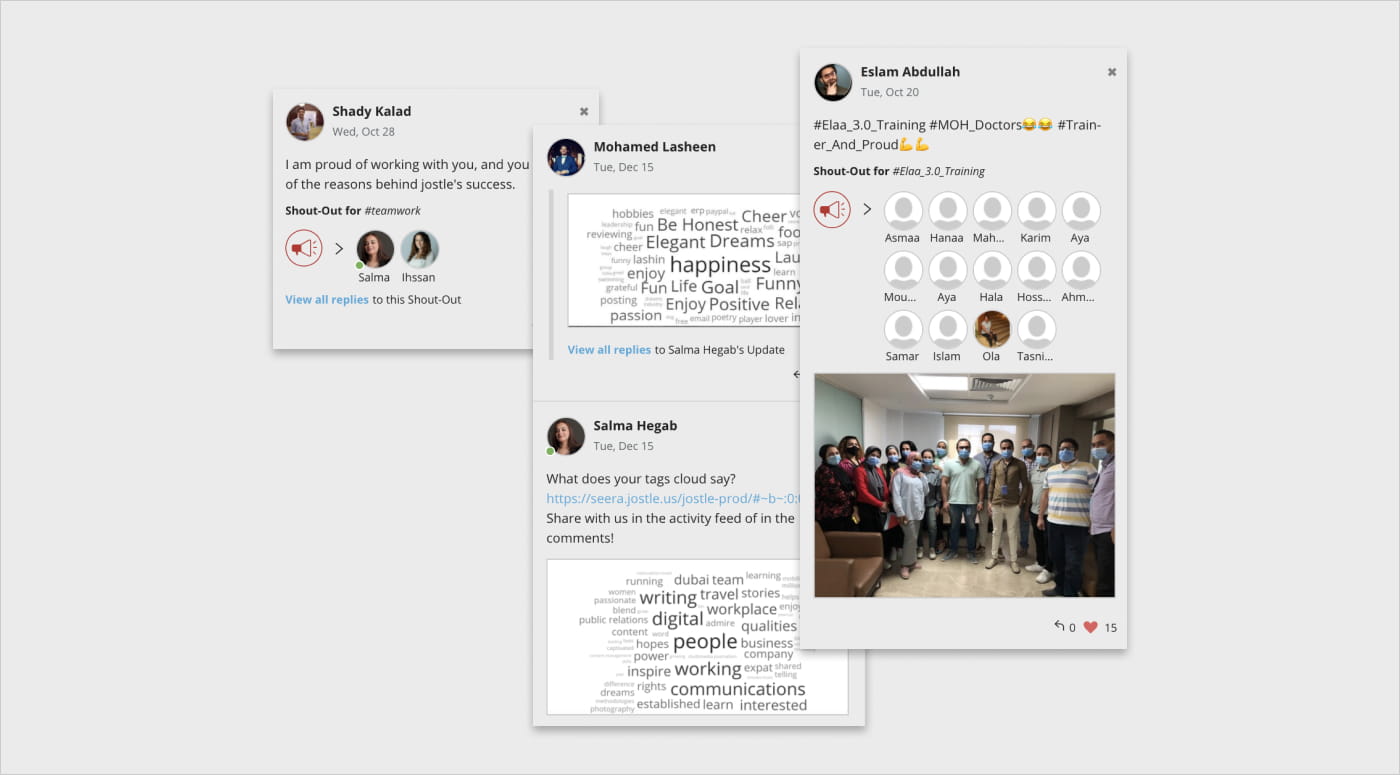 Activity posts
Results
The team at Seera credits Jostle for helping establish a community within the organization. Thanks to the Jostle platform, colleagues in different locations are now more up-to-date on company events, and people are getting to know one another across departments and locations. With the availability of "likes" and "comments," the content on their Jostle platform is much more interactive. The content team solicits and responds to employee feedback on their efforts too! While their Humans of Seera campaign started as a photo interview, it was quickly adapted into video interviews because employees found video more personable. Perfect for creating more personal connections.
"We faced a lot of challenges in 2020 and the future seemed uncertain. We had a mission to keep everyone informed and hopeful about the future and our communications team rose to the occasion through our Jostle content."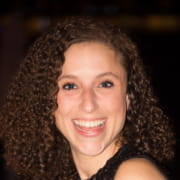 Nathalie Viranyi
Head of Communications
Looking to create community and connection throughout your organization? Get demo