An employee success platform that integrates with Microsoft
Jostle's employee success platform is quick to launch and easy to use. It works seamlessly with Microsoft 365, Microsoft OneDrive, Microsoft Teams, and Azure AD. Watch our product tour video to find out a little bit more about our platform.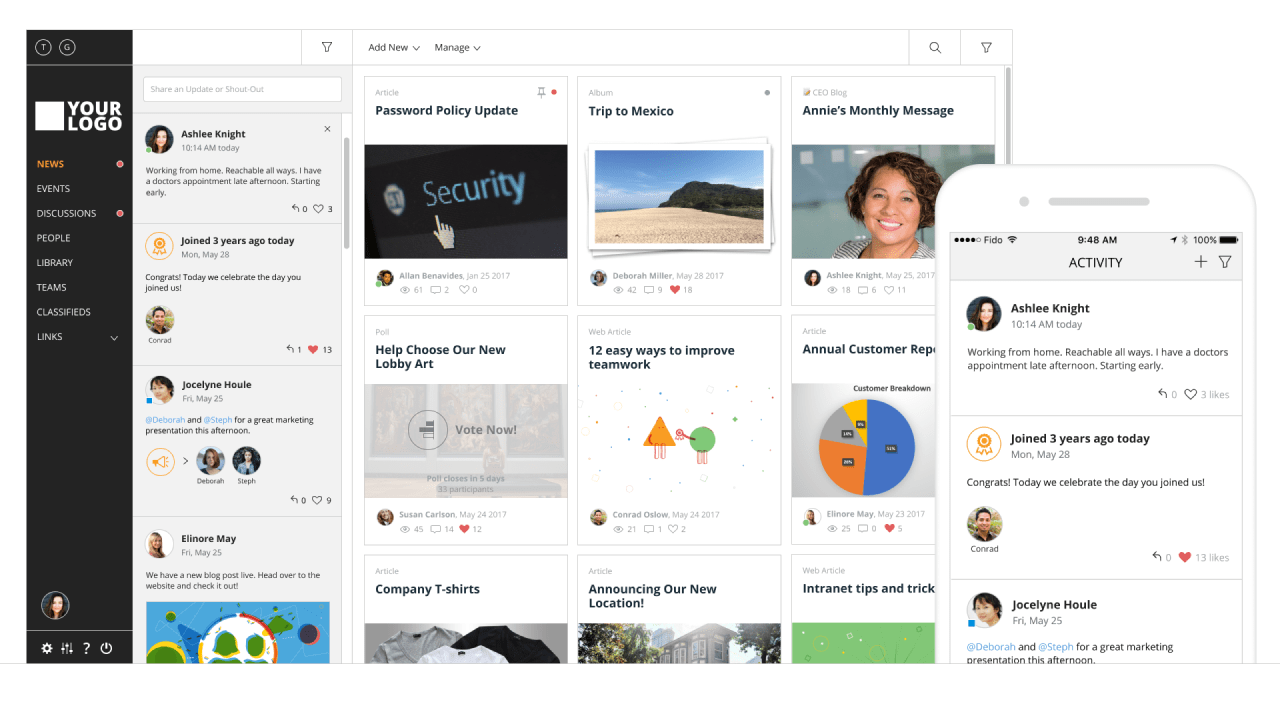 Watch our 2 minute product tour
Jostle integrates with Microsoft to make your life easier:
Work collaboratively
Want to work collaboratively in Word, Excel, or PowerPoint using Microsoft 365? You can start new documents and co-edit with your collaborators all from within Jostle's platform. You can also embed Microsoft Forms or presentations in our News or Links views for increased visibility and easier access.
Search within OneDrive documents
You can find documents quickly in our universal search. These files are also available and searchable in a Jostle Library folder in each employee's OneDrive.
Enable your subject matter experts
Jostle makes it easy for subject matter experts, such as your benefits administrator or a technology expert, to maintain their own areas and share content. Content ownership is clear, and viewing permissions can be locked down to dynamic workplace teams, such as a specific location, employee type, or division.
Stop worrying about permissions settings
OneDrive file and folder permissions can be confusing, particularly when you want to tie them to the ever-changing membership of a workplace team. When an employee is added to a location, division, or team, they'll automatically see the content published to that group. These permissions are set on the Jostle side and automatically enforced on the OneDrive side.
Find the files you're looking for
Searching for a file in OneDrive is overwhelming for most employees—it's hard to spot the "official" documents from working copies. Jostle solves this by providing an organized place for your key files that provides clear structure and context.
Get important company updates on Microsoft Teams
Jostle's Microsoft 365 integration lets you receive important notifications and company announcements directly in your Teams chat.
Sign on to Jostle with your Microsoft account
SSO with Azure Active Directory (or ADFS) means everyone in your organization can quickly log in to their Jostle platform via their Microsoft account.
Import your people info
It's easy to import your employee data from Azure Active Directory and/or ADFS. Push employee data updates from Azure AD or AD whenever you wish.
Manage events
Jostle also makes adding events to your Outlook Calendar straightforward and easy. Just click the "Add to my calendar" button and you're all set.
Outlook integrated
Email everyone on a workplace team with a single click. And, if you like, receive notifications in your Outlook inbox.
Get a

live demo

to see our Microsoft integrations in action.